Custom Orders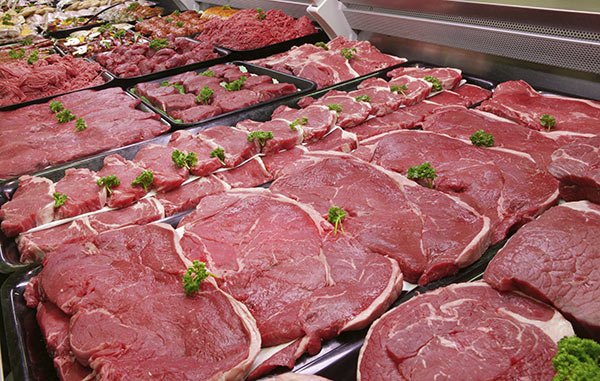 Conger Meat Market is a custom exempt, state-inspected meat processing plant in Conger, MN. From Conger butcher's beef on Mondays to pork on Wednesdays, we offer a wide variety of products to suit your tastes. We also specialize in venison processing. To schedule an appointment, call 507-265-3340. Please remember fall appointments fill up a year in advance so book early!
We offer custom beef cuts including whole, half and quarters. All beef is aged 10-14 days prior to cutting. We offer custom pork cuts, whole or halves. We cut to your specifications based on the attached cutting instruction sheet, (see specific instructions below). Please bring the instructions with the animal or call 507-265-3340.
Beef Products
We sell locally raised beef or pork, custom cut to your specifications. Order forms are available for download at the bottom of this section! Beef is sold by whole, half or quarter. The quality is the same as those in our fresh meat case. Here's example of what you might get in a quarter:
| | |
| --- | --- |
| Start Weight | Approximately 200 lbs. |
| Cuts and Quantity T-Bone Steaks | 6 to 8 @ 1" Thick |
| Rib-steaks | 6 to 8 @ 1" Thick |
| Sirloin Steaks | 5 to 6 @ 1" Thick |
| Round Steak | 7 to 8 Pounds (Can Be Cut For Stew Or Round Roasts) |
| Chuck Roasts | 3 to 4 @ 3 Pounds Each |
| Arm Roasts | 3 to 4 @ 3 Pounds Each |
| Sirloin Tip & Rolled Rump | 1 each @ 3 1/2 Pounds Each |
| Ground Beef | Approximately 50 Pounds |
Pork Products
Locally raised Pork is a delicious and healthy choice. Pork chops, pork roasts, hams and award-winning bacon are all cut to your specifications. Here's an example of all the pork trim products you can have made.


Our Products Include:
Brats or Brat Patties
Cheddar Brats
Cooked Brat
Fresh Pork Links or Smoked Links
Ham Loaf or Ham Loaf Patties
Jalapeño/Cheese Brat
Krautwurst
Mushroom Cheddar Brat
Old Fashion Course Ground Ring Bologna
Old Fashion Course Ground Wieners
Plain Ground Pork/ Plain Pork Patties
Polish Sausage
Pork Producer Patties
Pork Sausage (Original, Pepper Flake or Italian)
Pork Sausage Patties
Smoked Brat
Taco Brat
Wild Rice Brat
Venison Processing
For only $95.00 you get your deer cut and trim bagged! A deposit of $50 per whole deer and $25 per trim orders is required. Deposits are non-refundable.


Our Flavorful Trim Products Include:
Award Winning Summer Sausage
Breakfast Sausage
Cheddar-Wurst
Cheese Sausage
Cheese Stix
Dried Venison
Fresh Brats
Ground Jerky
Hot Stix
Hunter Sausage
Hunter Stix
Hunter w/cheese Stix
Jalapeño and Cheese Sausage
Must Have Roasts
Philly Cheese Stix
Polish